Research
Open Access
Open Peer Review
This article has Open Peer Review reports available.
An assessment of routine primary care health information system data quality in Sofala Province, Mozambique
Population Health Metrics
2011
9:12
Received: 26 January 2011
Accepted: 13 May 2011
Published: 13 May 2011
Abstract
Background
Primary health care is recognized as a main driver of equitable health service delivery. For it to function optimally, routine health information systems (HIS) are necessary to ensure adequate provision of health care and the development of appropriate health policies. Concerns about the quality of routine administrative data have undermined their use in resource-limited settings. This evaluation was designed to describe the availability, reliability, and validity of a sample of primary health care HIS data from nine health facilities across three districts in Sofala Province, Mozambique. HIS data were also compared with results from large community-based surveys.
Methodology
We used a methodology similar to the Global Fund to Fight AIDS, Tuberculosis and Malaria data verification bottom-up audit to assess primary health care HIS data availability and reliability. The quality of HIS data was validated by comparing three key indicators (antenatal care, institutional birth, and third diptheria, pertussis, and tetanus [DPT] immunization) with population-level surveys over time.
Results and discussion
The data concordance from facility clinical registries to monthly facility reports on five key indicators--the number of first antenatal care visits, institutional births, third DPT immunization, HIV testing, and outpatient consults--was good (80%). When two sites were excluded from the analysis, the concordance was markedly better (92%). Of monthly facility reports for immunization and maternity services, 98% were available in paper form at district health departments and 98% of immunization and maternity services monthly facility reports matched the Ministry of Health electronic database. Population-level health survey and HIS data were strongly correlated (R = 0.73), for institutional birth, first antenatal care visit, and third DPT immunization.
Conclusions
Our results suggest that in this setting, HIS data are both reliable and consistent, supporting their use in primary health care program monitoring and evaluation. Simple, rapid tools can be used to evaluate routine data and facilitate the rapid identification of problem areas.
Keywords
Health FacilityPrimary Health Care ServiceMaternity ServiceDemographic Health SurveyMultiple Indicator Cluster Survey
Introduction
The 2008 World Health Report issued a call for a renewed focus on primary health care (PHC). As set forth in the 1978 Alma Ata Declaration, the ultimate goal of PHC is better health for all through a reduction in exclusion and social disparities in health, the organization of health services around people's health needs and expectations, the integration of health into all sectors through effective policy planning, and the pursuit of collaborative models of policy dialogue through increasing stakeholder participation.[1] A key systems building block of PHC is an intact health information system (HIS), which generates information to enable decision-makers at all levels of the health system to identify problems and needs, make evidence-based decisions on health policy, and allocate scarce resources optimally.[2] Effective monitoring and supervision of health care programs depend on complete, accurate, and timely flow of data between primary health care facilities, hospitals, and a central information hub. Ultimately, effective use of information has been identified as a key element in the success of large-scale efforts that have achieved major health improvements.[3]
There are six main types of recognized surveillance data, including census, vital events, disease-specific registries, administrative data, household surveys, and national health accounts. Within the framework of PHC, administrative data provide the best opportunity for public health systems to capture facility-level information to guide program planning and management. Administrative data are better suited to PHC than other forms of surveillance in this regard because they are universal in scope, inexpensive, and data are immediately available at each level of the health system. This allows clinic-level managers, as well as provincial and national managers, to use the information in either aggregated or nonaggregated formats to guide decision-making and program implementation.
Concerns about the quality of routine administrative data in resource-limited settings such as Mozambique have undermined their use [4, 5]. Earlier studies and reports have found that the data received by health managers from health facilities in resource-limited settings are chronically incomplete, inaccurate, and untimely [6, 7]. One study, carried out in 2004 in selected districts in southern Mozambique to assess the quality of routine malaria data, found primary data to be of poor quality and that the multiplicity of reporting channels of information (4) contributed to a duplication of efforts and ultimately to low validity, incorrectness, and incompleteness of data. In addition, there are typically limited human resources available to analyze and translate data into useful information for health managers. Acting on useful information can also be challenging when program staff have different data needs from surveillance experts. Surveillance systems are often donor-driven and developed to monitor vertically-funded priority initiatives, further undermining and directing resources away from the PHC system.[8, 9] As the donor community recommits to the importance of PHC, the focus on strengthening routine HIS is crucial to ensure that information collection is funded systematically rather than categorically. The ultimate goal of a national HIS is the coordination of government and donor information needs and flows through one national HIS to decrease system fragmentation, minimize duplicative and burdensome reporting, and improve data quality and use.[2] In this context, our aim was to evaluate the strengths and weaknesses of HIS in three districts in central Mozambique, by evaluating the quality of HIS data prior to the initiation of a seven-year joint PHC strengthening project of the Mozambican Ministry of Health (MOH), the University of Eduardo Mondlane, and the University of Washington (UW)/Health Alliance International (HAI), funded by the Doris Duke Charitable Foundation/African Health Initiative. The intention of this paper was not to assess other aspects of HIS data use, such as determinants of data quality or use in the aforementioned three districts.
Results and discussion
Data availability
Over the 12-month study period included in analysis of data availability (November 1, 2007 through October 31, 2008), 97% (105/108) of immunization and 99% (107/108) of maternity monthly facility reports were properly on file at the health facility level. At the district health departments, 99% (35/36) of the monthly facility reports for immunization and 100% (36/36) of the maternity reports were properly filed and available. In some cases, health facilities did not make copies of the report to keep on file before sending it on to the district level.
Data reliability
Over six months (June through December 2008), five indicators were assessed across nine health facilities for data reliability. Three of the sites did not provide HIV testing services, and one site did not have access to the outpatient consult registry at the time of data collection. Therefore, there was no data collection for those sites for those indicators. Exactly 80% (196/246) of data from facility clinical registries and monthly facility reports matched exactly on the five key indicators (Table
2
).
Table 2
Concordance between health facility clinical registries and monthly facility reports for five key indicators and GFATM data verification ratings
Number of months in which figures from facility clinical registers match monthly facility reports, for six-month period (June 1, 2008 to Dec 31, 2008), by indicator

First ANC

Institutional birth

DPT3

HIV testing

Outpatient consults

TOTAL

GFATM rating grade

District

Health facility type

N (%)

N (%)

N (%)

N (%)

N (%)

1

Urban

1/6 (17)

2/6 (33)

4/6 (67)

0/6 (0)

4/6 (67)

11/30 (37)

B2

Peri-urban

5/6 (83)

6/6 (100)

6/6 (100)

NA

6/6 (100)

23/24 (96)

A

Rural

6/6 (100)

6/6 (100)

6/6 (100)

NA

6/6 (100)

24/24 (100)

A

2

Urban

2/6 (33)

1/6 (17)

2/6 (33)

3/6 (50)

6/6 (100)

14/30 (47)

B2

Peri-urban

6/6 (100)

1/6 (17)

6/6 (100)

6/6 (100)

NA

19/24 (79)

B2

Rural

6/6 (100)

4/6 (67)

6/6 (100)

NA

6/6 (100)

22/24 (92)

A

3

Urban

6/6 (100)

6/6 (100)

5/6 (83)

6/6 (100)

6/6 (100)

29/30 (97)

A

Urban

4/6 (67)

6/6 (100)

5/6 (83)

6/6 (100)

4/6 (67)

25/30 (83)

B1

Urban

6/6 (100)

6/6 (100)

6/6 (100)

5/6 (83)

6/6 (100)

29/30 (97)

A

TOTAL

42/54 (77)

38/54 (70)

46/54 (85)

26/36 (72)

44/48 (92)

196/246 (80)

B1
When two sites, both urban facilities, were excluded from the analysis, the concordance was markedly better (92%) and the GFATM data verification rating jumped from borderline B1/B2 to A (Table
2
). Of the 50 monthly figures which did not match exactly, the median percentage difference was 4% (range <.01%-59%) and the majority (86%) differed by 10% or less. Most of the monthly disagreements (35/50, 70%) were from the two larger-district urban health facilities, highlighting that the majority of problems were confined to a few sites. Among the various indicators, the weakest reliability was noted in institutional birth and ANC registration (28/50, 56%) (Table
3
).
Table 3
Distribution of discordant monthly figures from health facility clinical registries versus monthly facility reports
District

Health facility type

First ANC

Institutional birth

DPT3

HIV testing

Outpatient consults

TOTAL

1

Urban

5

4

2

5

2

18

Peri-urban

1

0

0

0

0

1

Rural

0

0

0

0

1

1

2

Urban

4

5

4

3

1

17

Peri-urban

0

5

0

0

0

5

Rural

0

2

0

0

0

2

3

Urban

0

0

1

0

0

1

Urban

2

0

1

0

1

4

Urban

0

0

0

1

0

1

TOTAL

12

16

8

9

5

50
In addition, 96% (242/252) of the monthly aggregated district reports for immunization and 98% (287/288) of monthly aggregated district reports for maternity services matched the information available through the MOH electronic database over the 12-month period.
Data validity
The comparisons of DHS and MICS with MOH electronic database information were similar in terms of absolute results for the three variables considered: ANC coverage, institutional birth coverage, and DPT3 coverage (Figures
2
,
3
, and
4
). Table
4
shows the survey estimates and HIS data for the corresponding time period. Overall, 81% (13/16) of the HIS data were within the 95% confidence interval of the corresponding survey estimate. Data for DPT3 coverage for 2000 (DHS: 72.7 [61.8-81.4] vs. HIS: 98.5), 2006 (DHS: 84.6 [76.3-90.3] vs. HIS: 90.9) and 2007 (DHS: 81.0 [73.5-86.7] vs. HIS: 87.6) were not located within the 95% confidence interval. In comparing the two data sources, the correlation coefficient was 0.73; however, the correlation was 0.88 when the DPT3 data points for both sources from the year 2000 (the point with the most discrepant results in the entire analysis) were excluded.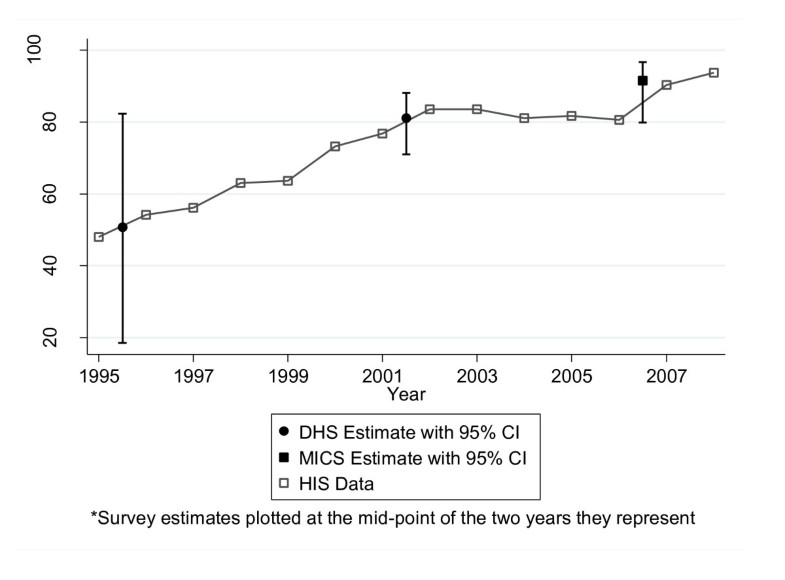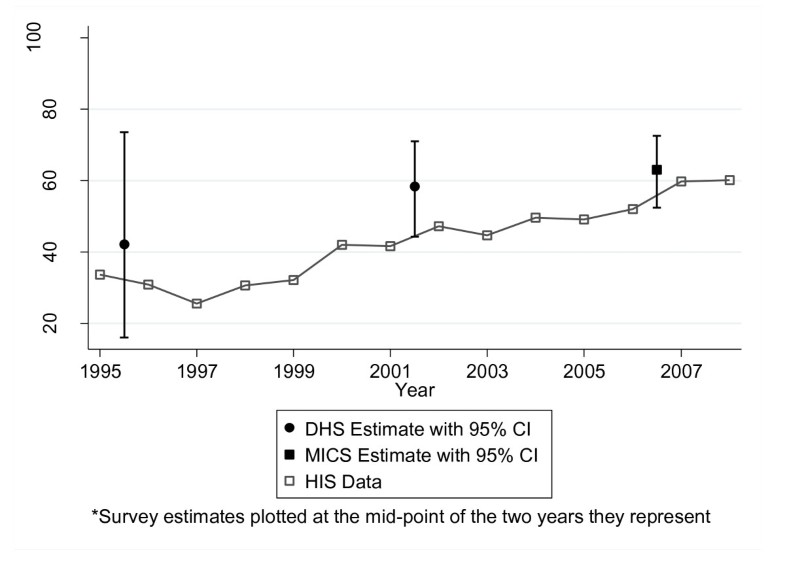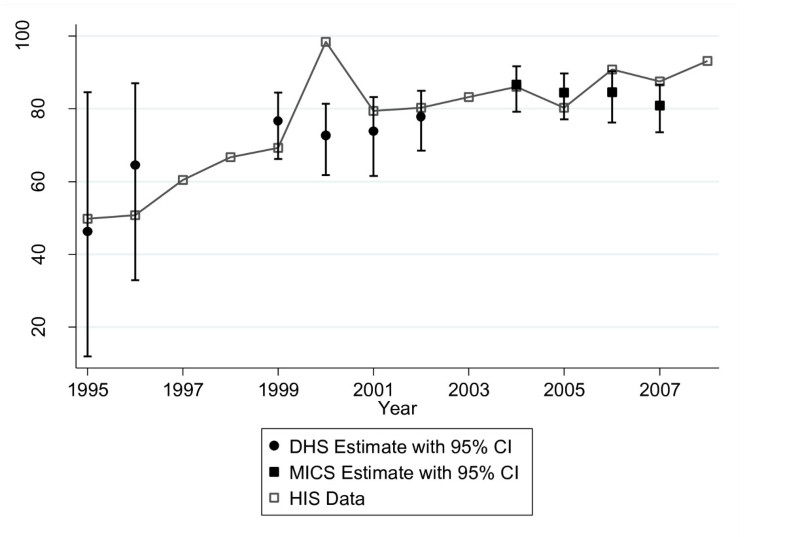 Table 4
DHS/MICS estimates versus HIS data for the corresponding time period
DHS/MICS estimate

(95% CI)

HIS data

Institutional birth coverage

   1995-1996

42.2 (16.0-73.6)

32.2

   2001-2002

58.3 (44.3-71.0)

44.4

   2006-2007

63.0 (52.5-72.5)

55.9

ANC coverage

   1995-1996

50.7 (18.5-82.3)

51.2

   2001-2002

81.1 (71.1-88.2)

80.2

   2006-2007

91.5 (79.9-96.7)

85.5

DPT3 coverage

   1995

46.3 (11.9-84.6)

49.8

   1996

64.5 (32.9-87.1)

50.7

   1999

76.6 (66.3-84.5)

69.3

   2000

72.7 (61.8-81.4)

98.5

   2001

73.9 (61.6-83.3)

79.4

   2002

77.9 (68.6-85.0)

80.3

   2004

86.6 (79.1-91.7)

86.1

   2005

84.4 (77.1-89.8)

80.3

   2006

84.6 (76.3-90.3)

90.9

   2007

81.0 (73.5-86.7)

87.6
Limitations
This study was limited by the relatively small sample of health facilities included, as well as the limited geographic area. In addition, the effect of the disaggregation of data and the use of a small number of sites may have contributed to the very good concordance demonstrated between facility level data and the MOH electronic database. Likewise, aggregation of data at the provincial level may have effectively hidden problematic sites when comparing validity with the findings of population level surveys.
An additional limitation of the study was the use of provincial MOH health managers and NGO counterparts to carry out the data collection. Provincial MOH managers are technically responsible for data quality in the province and thus may have been biased in their collection. Although this may be deemed a limitation by some, the full involvement of MOH managers in this data quality audit was regarded as essential programmatically in order to build local capacity and ownership over the process.
Conclusions
The results of this evaluation, which used relatively simple, rapid tools, suggest that in this study setting, routine administrative data are adequately available, reliable, and consistent from the health facility to the provincial health department levels. The exercise was also helpful in pointing out discrepancies between clinic registers and monthly facility reports at two district urban health facilities and within the maternity and antenatal care settings. The DHS/MICS and HIS data comparisons confirm that over time at the provincial level, the data are valid and useful for program monitoring, evaluation, and planning. Notably, at the data points where the HIS and DHS/MICS data were the most discrepant (the comparison of DPT3 coverage in 2000), our findings were consistent with previous studies. These studies identified increases in multiple countries in reported coverage of DPT3 based on HIS data in the year following the implementation of a global initiative to expand vaccination coverage, and for which fund distribution was dependent on the coverage rate in the second year (which was 2000 for Mozambique) [5].
Of the many past reports and studies that have found administrative data in developing countries to be of poor quality and unreliable for disease or program surveillance, most have suggested that the root cause of the problem is the lack of significant value assigned by clinic-level health workers to the quality of administrative data collection [6, 14]. Indeed, it is widely recognized that health systems rarely use routinely-collected data to improve functioning [15, 16]. In order for this to improve, district- and health facility-level managers need expanded skills to allow for full involvement in the process of evaluating their data.
Though this research project was not designed to determine the cause of variation in data reliability, other similar studies carried out in resource-constrained environments have described the importance of human resource levels, management and planning capacity, infrastructure capacity, and the like in determining data quality. The Mozambique health system is faced with significant constraints in these areas, which may explain variation in data reliability across different services.
PHC service-strengthening in Sofala Province should enhance the design, testing, and subsequent use of similar operational research tools to further expand the quality and use of routine data by health managers and policymakers alike. Health managers accustomed to using health systems data and ensuring their quality through bottom-up audits will be invaluable to the ongoing decentralization process and will provide valuable lessons for other areas of Mozambique and possibly sub-Saharan Africa.
Declarations
Acknowledgements
The authors wish to thank Jim Hughes for his contributions during the data analysis phase and to Eva Duarte, Francisco Macuacua, Laurinda Matunha, Fernando Baloi, and the members of the Sofala Province health department for their contributions during the data collection process.
Authors' Affiliations
(1)
Department of Global Health, School of Public Health and Community Medicine, University of Washington, Seattle, USA
(2)
Health Alliance International, Health Alliance International, Seattle, USA
(3)
Health Alliance International-Beira, Health Alliance International-Beira, Beira, Mozambique
(4)
Provincial Department of Health-Sofala Province,Sector Reparticao de Saude da Communidade, Provincial Department of Health-Sofala Province, Beira, Mozambique
(5)
Community Health Department, Eduardo Mondlane University, Maputo, Mozambique
Copyright
© Gimbel et al; licensee BioMed Central Ltd. 2011
This article is published under license to BioMed Central Ltd. This is an Open Access article distributed under the terms of the Creative Commons Attribution License (http://creativecommons.org/licenses/by/2.0), which permits unrestricted use, distribution, and reproduction in any medium, provided the original work is properly cited.