Every Newborn-INDEPTH study supplement dedication: Professor Peter Byass
Professor Peter Byass (1957-2020)
• Professor of Global Health and Director of the Umeå Centre for Global Health Research, Umeå University, Sweden
• Chair, Scientific Advisory Committee and Board Member, INDEPTH Network
• Chief Editor, Global Health Action
• Editorial Board Member, BMC Population Health Metrics
• Honorary Professor, University of the Witwatersrand, South Africa
• Honorary Professor, University of Aberdeen, Scotland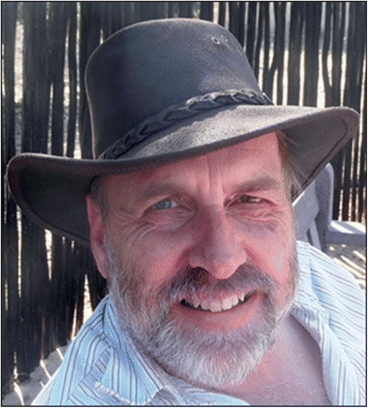 Source: http://www.byass.uk/
Dr Tedros Adhanom Ghebreyesus
Director General, World Health Organization
Heartbroken by the passing of Professor @PeterByass, dear friend and mentor to me and countless others around the world. Peter lent his heart and intellect in the service of humanity right up until the end. My deepest condolences to his family. @PeterByass supervised my Ph.D. thesis at the @UniofNottingham and our friendship and collaboration endured. Peter was a staunch advocate for science, equitable solutions and global solidarity, including the #COVID19 pandemic. I pledge to keep his vision alive (@DrTedros, 17th August 2020 tweet).
Professor Tumani Corrah
Board Chair, INDEPTH Network and Director, Africa Research Excellence Fund
Like a thief, unannounced death stole a colleague to many and a close friend of my family - best described by my son as his surrogate parent. With his demise global health has lost a brilliant mind, an enlightened scholar with the knack to make the complicated simple. Motivated to always think outside the box, Professor Peter Byass was committed to improving health through high quality research. He will be remembered for his dedication to nurturing the next generation of health researchers particularly from LMICs. A founding member of INDEPTH, his significant contributions towards improving the quality of the Network's science contributed to INDEPTH's current recognition by the global scientific community. A devout Christian and a member of the clergy, he was wholeheartedly committed to his family and all those fortunate to know him. May his gentle soul rest in perfect peace.
Professor Stephen M Tollman
Director, MRC/Wits University Rural Public Health and Health Transitions Research Unit & Senior External Editor, EN-INDEPTH study supplement
It is distressing to compose notes of a long-time friend and colleague with whom one has walked a walk of many years. Peter was disarmingly relaxed in manner – yet his thinking, analyses and writing reflect profound insights coupled with deep humanity. It was easy to take his effortless style for granted and as a research partner his gifts, generously shared, helped us all do better. While his research interests were broad, it is Peter's sustained contributions to understanding mortality and cause of death – and methods to bring this in reach of routine vital registration – that stand out. In recent years his month-long visits to rural South Africa, always with Margaret, allowed frequent forays into the wild, trips that were sacrosanct. His loss, deeply felt, leaves a space that can only be bridged by redoubling our efforts in the fight for life and dignity for all.
Dr Peter Waiswa
For the Makerere University School of Public Health team, Uganda
Peter so much loved Africa - he pushed for the understanding of the cause of death even where medical data were lacking; he advanced capacity building and was easy to approach, responsive, and a darling to many across HDSS sites. Once approached, Peter was always ready to help. He also made many young Africans become authors by supporting them to publish. His works have led to the saving of many lives of women and children, and his works will live on. He was a true African at heart – and practice. Rest in peace and power Peter.
Professor Joy E Lawn, Dr Hannah Blencowe and Dr Judith Yargawa
For the EN-INDEPTH study supplement editorial team, London School of Hygiene & Tropical Medicine, UK
Peter Byass worked with us as the Senior Editor on the EN-INDEPTH study supplement over his last year of life. His knowledge of the topic, the teams of the INDEPTH Network and his vast experience as a journal editor were invaluable, including at our last meeting in early August 2020. His death just 2 weeks after this came as a huge shock to us all. He was a delight to work with - thoughtful, kind, and humorous. His passion for empowering researchers from the global south was fundamental. We are deeply privileged to have worked with him and hence have dedicated these 12 papers in the supplement to his memory.
Dr Nurul Alam
For the Matlab HDSS site team, Bangladesh
I met Professor Peter Byass in INDEPTH Scientific Conference held in Accra in 2005, and subsequently, in workshops led by Peter on analysis of verbal autopsy symptom data using 'InterVA' to assign cause of death. I admire his discovery of 'InterVA.' Peter visited Dhaka in July 2009 to attend a workshop and I had the opportunity to take him to icddr,b Matlab Health Research Centre and showed him Matlab HDSS field activities. I pray for his eternal peace.
Dr Yeetey Enuameh
For the Kintampo HDSS site team, Ghana
The Kintampo Health Research Center did not work directly with Professor Peter Byass but felt his influence through the INDEPTH Network. He was the Scientific Committee Chair of the Network and later stepped in as Acting Board Chair when the position became vacant until a substantive Chair was elected. He is credited with and will forever be remembered for his contribution to the development of the InterVA software, that eased the transcription and coding of verbal autopsy interviews by physicians. May he rest in perfect peace.
Dr Solomon Mekonnen Abebe
For the Dabat HDSS site team, Ethiopia
We are deeply saddened by the sudden passing of Professor Peter Byass. He was not only instrumental in the countless works we were engaged in but his passion stemmed much farther than that. His impact in the lives of Africans will be seen for generations to come and we send our deepest condolences to all of his family and loved ones.