Improving the usefulness of US mortality data: new methods for reclassification of underlying cause of death
Population Health Metrics
Advancing innovation in health measurement
2016
14:14
Received: 13 May 2015
Accepted: 29 March 2016
Published: 28 April 2016
Abstract
Background
Mortality data are affected by miscertification of the medical cause of death deaths and changes to cause of death classification systems. We present both mappings of ICD9 and ICD10 to a unified list of causes, and a new statistical model for reducing the impact of misclassification of cause of death.
Methods
We propose a Bayesian mixed-effects multinomial logistic model that can be run on individual record level death certificates to reclassify "garbage-coded" deaths onto causes that are more meaningful for public health purposes. The model uses information on the contributing causes of death and demographic characteristics of each decedent to make informed predictions of the underlying cause of death. We apply our method to death certificate data in the US from 1979 to 2011, creating more directly comparable series of cause-specific mortality for 25 major causes of death.
Results
We find that many death certificates coded to garbage codes contain other information that provides strong clues about the valid underlying cause of death. In particular, a plausible underlying cause often appears in the contributing causes of death, implying that it may be incorrect ordering of the causal chain and not missed cause assignment that leads to many garbage-coded deaths. We present an example that redistributes 48 % of heart failure deaths to other cardiovascular diseases, 25 % to ischemic heart disease, and 15 % to chronic respiratory diseases.
Conclusions
Our methods take advantage of more detailed micro-level data than is typically considered in garbage code redistribution algorithms, making it a useful tool in circumstances in which detailed death certificate data needs to be aggregated for public health purposes. We find that this method gives different redistribution results than commonly used methods that only consider population-level proportions.
Keywords
Vital registration dataCause of death certificationGarbage codesStatistical cause of death models
Background
Information on mortality from different diseases is an important input to public health decision-making. However, even in countries with vital registration systems and medical certification of deaths, there are difficulties in assessing the levels and trends in cause-specific death rates for two reasons.
First, there are difficulties with cause of death assignment even within a well-defined system like the International Classification of Diseases (ICD). While the ICD has rules for determining a single underlying cause of death in each case (as opposed to possibly multiple contributing, intermediate, or immediate causes of death), it is a complicated rubric that can be disrupted by local coding practices, the particulars of a case, or physician experience [10, 13]. In some countries, software—like the Automated Classification of Medical Entry, ACME, in the United States—attempts to catch and correct some common errors in choosing the underlying cause of death by examining the entire causal chain listed on each death certificate, but it only covers several common issues [3, 8, 12]. Among these, deaths are often attributed to causes that should not be considered causes of death either because they are impossible or do not provide useful public health information, often termed "garbage codes." For instance, ICD10 contains many codes that are useful in classifying morbidity but are not themselves causes of mortality, such as those within Chapter 18 "Symptoms, Signs and Abnormal Clinical and Laboratory Findings, Not Elsewhere Classified." Other codes, such as heart failure or septicemia, describe intermediate causes of death that most likely have a different underlying cause that would be a better target for public health intervention [16]. As far back as 1948, heart disease classification has been described as a "convenient statistical 'wastepaper basket'" [22].
Second, the ICD system is currently on its tenth revision, introduced in 1992 [24], and an 11th revision is expected in 2017 [25]. Each revision brings with it new and more specific causes of death, expanding from under 200 to nearly 15,000 codes [11]. While various "bridge coding" exercises attempt to correct for classification changes [6, 18], they often rely on comparability ratios that do not preserve things like total mortality over time or work with small areas data.
We have confronted these problems in our attempts to model over time cause-specific mortality by US county, age, and sex. Drawing on previous research, we have developed mappings of ICD9 and ICD10 to a mutually exclusive and collectively exhaustive set of 25 causes of death that are of public health importance in the US and other high-income countries. These causes provide a relatively detailed view of the cause composition of mortality while avoiding small numbers issues in modeling. We also have developed a new method for correcting garbage codes which takes into account the entire death certificate and is generalizable to multiple types of garbage codes.
Results
Table
3
shows, as an example of how the model redistributes garbage codes, the RRR for the redistribution of heart failure deaths to other causes in men aged 70–74 years in ICD10 data, with diabetes mellitus used as the reference category. In other words, the RRR describes how much more likely it is, relative to diabetes, for each death to be attributed to a particular underlying cause after adjustment for other factors (state, place of death, race, and year) on the death certificate. Results for every garbage code, sex, and age group are available upon request from the authors.
Table 3
Relative risk ratios for possible actual underlying causes of deaths attributed to heart failure in men aged 70 to 74 in ICD10
Relative risk ratio of underlying cause

Contributing cause

Diabetes

IHD

Stroke

Other CVD

Chron Resp

Cirrhosis

Renal Failure

Other NCD

HIV & Tuberculosis

1.00x

1.14x

0.92x

0.80x

1.19x

1.01x

0.95x

1.05x

Respiratory infections

1.00x

1.45x

4.46x

0.73x

1.60x

2.05x

1.20x

1.82x

Other communicable

1.00x

1.82x

0.49x

1.74x

1.84x

1.07x

0.98x

0.70x

Lung cancer

1.00x

0.96x

0.98x

1.26x

1.24x

1.01x

1.80x

1.10x

Liver cancer

1.00x

0.71x

0.96x

1.92x

1.14x

1.08x

1.09x

0.86x

Breast cancer

1.00x

0.92x

1.01x

1.02x

1.10x

1.02x

1.03x

1.02x

Digestive cancers

1.00x

2.03x

0.86x

1.46x

3.70x

0.65x

0.81x

1.05x

Lymphomas/Leukemias

1.00x

1.93x

≤0.1x

2.27x

≤0.1x

≤0.1x

1.81x

≤0.1x

Other cancers

1.00x

3.95x

≤0.1x

6.96x

4.02x

≤0.1x

2.32x

7.05x

Diabetes mellitus

1.00x

≤0.1x

≤0.1x

≤0.1x

≤0.1x

≤0.1x

≤0.1x

≤0.1x

Ischemic heart disease

1.00x

≥10x

0.21x

≤0.1x

0.37x

0.13x

1.08x

0.67x

Stroke

1.00x

1.43x

≥10x

1.19x

0.51x

≤0.1x

1.65x

0.43x

Other CVD

1.00x

0.71x

0.58x

≥10x

0.64x

0.18x

1.07x

0.85x

Chronic respiratory diseases

1.00x

3.06x

3.72x

2.43x

≥10x

4.20x

3.31x

4.50x

Cirrhosis

1.00x

1.41x

1.63x

1.10x

1.68x

≥10x

0.92x

1.60x

Renal failure

1.00x

0.59x

1.07x

0.81x

0.48x

0.20x

≥10x

0.44x

Other NCDs

1.00x

0.59x

1.42x

1.06x

0.90x

0.75x

0.62x

≥10x

Mental & neurological

1.00x

1.97x

2.97x

1.51x

2.58x

≥10x

0.97x

1.17x

Road traffic injuries

1.00x

≥10x

≤0.1x

≤0.1x

≤0.1x

≥10x

≥10x

≥10x

Other unintentional injuries

1.00x

1.14x

1.17x

0.95x

0.28x

2.38x

0.92x

1.11x
As expected, having one of the target causes of death present on the death certificate is the strongest indicator of underlying cause; e.g. if ischemic heart disease is listed anywhere on a death certificate containing heart failure, it is far and away the most likely underlying cause. The RRRs are more nuanced for causes that are not themselves in the target list and hence likely underlying causes of death. For instance, a death certificate with heart failure as underlying cause, and tuberculosis as a contributory cause, is most likely to be redistributed to chronic respiratory condition (RRR of 1.19), based on the patterns seen in other death certificates for which chronic respiratory conditions are listed as the underlying cause of death and on which both heart failure and tuberculosis appear as contributing causes. Similarly, a death certificate with heart failure listed as an underlying cause, and a respiratory infection listed as a contributing cause, is most commonly attributed to stroke (RRR of 4.46).
The Sankey chart in Fig.
1
demonstrates the effect of redistributing heart failure deaths in males aged 70 to 74 for ICD10 using our regression results. Even though it is only the third largest target cause of death, other cardiovascular diseases receive more redistributed heart failure deaths (48 %) than either ischemic heart disease (25 %) or chronic respiratory diseases (15 %). This happens because among death certificates with heart failure as the underlying cause of death, and with both ischemic heart disease and other cardiovascular diseases listed, it is most common for the other cardiovascular disease to be chosen as the underlying cause, perhaps because it contains causes like hypertensive heart disease, which are hard to identify themselves but often lead to heart failure as the pathway to death. This is in contrast to a strictly proportional redistribution method, which would redistribute most deaths to ischemic heart disease.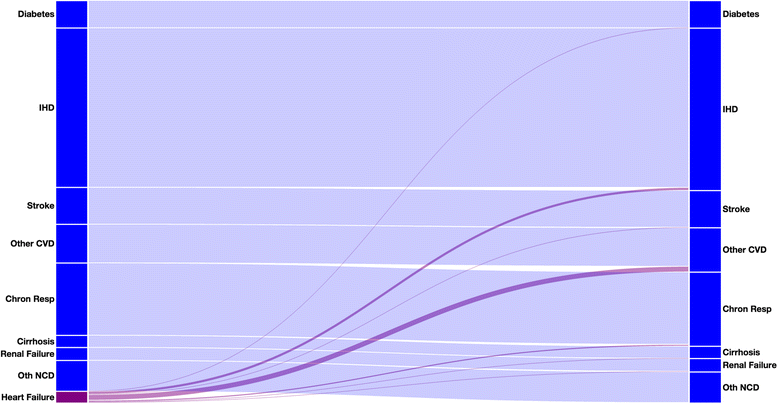 Figure
2
shows where deaths from each of the garbage codes present in men ages 70 to 74 in ICD10 are redistributed (charts for each age group, sex, and ICD version can be found in Additional file
4
). After redistribution, other cardiovascular diseases gains the most deaths (receiving 26 % of all garbage-coded deaths, mostly coming from heart failure and ill-defined cardiovascular diseases), followed by ischemic heart disease (15 %), other cancers (13 %), and chronic respiratory diseases (10 %).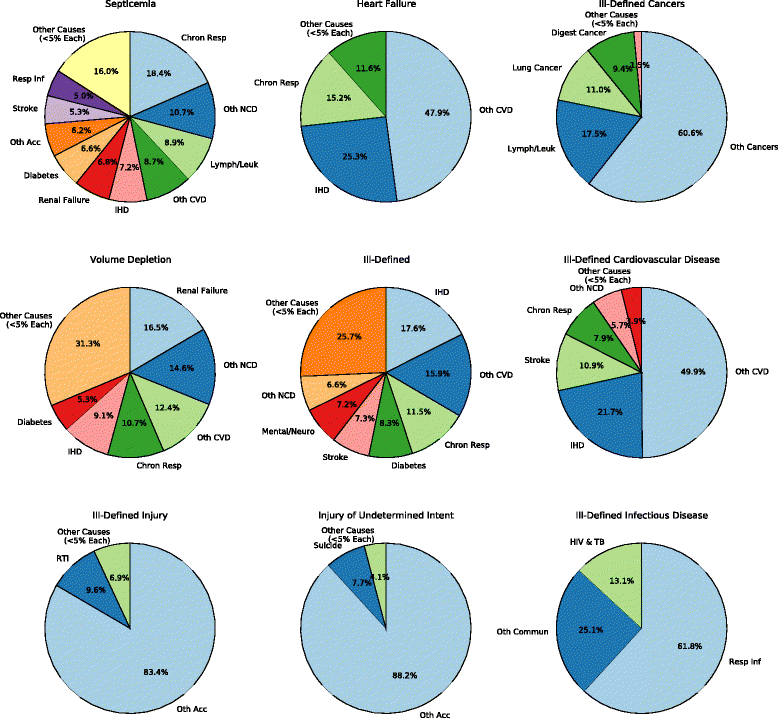 Discussion
We have developed a method that uses data on underlying and contributing causes of death to take into account more information when attributing an appropriate underlying cause of death to a death certificate. By incorporating contributing causes as well as demographic data into our model, we are able to tailor our redistribution algorithms more specifically to a target than past methods have done. Our method attempted to create a data-driven algorithm that can generalize to all the types of garbage codes we have described above, including across ICD revisions.
This is in contrast to previous methods for correcting garbage codes, which typically either relied heavily on expert opinion to find reassignment proportions [16] or targeted a single category of garbage codes such as heart failure [1, 21]. Our method shares some similarities with previous studies that have used information from contributing causes not to redistribute garbage codes but to inform reassignment of causes presumed to be overused, such as attributing a portion of diabetes deaths to cardiovascular diseases [14].
Our model also gives different results for heart failure redistribution than previous regression models. For instance, Ahern et al. utilizes the global proportion of heart failure deaths and suggests that 100 % of such cases be redistributed to ischemic heart disease in men aged 50 plus in developed countries [1], compared to reassigning just 25 % of heart failure deaths to ischemic heart disease in our method. Murray et al. use a similar multinomial logistic regression but find that coronary (ischemic) heart disease receives more redistributed heart failure deaths than do other cardiovascular diseases [15]. Similarly, Stevens et al. use coarsened exact matching and redistribute 53 % of heart failure deaths to ischemic heart disease in the US [21].
The difficulty with assessing the "correctness" of any given garbage code redistribution method is that there is no "gold standard" data. Different implementations offer different definitions of what counts as a garbage code, and there are no known datasets with zero garbage; the closest we can come to identifying true underlying clinical cause of death is through autopsy, such as in the 1986 mortality followback study [17, 19]. Because of this lack of concrete data, we are unfortunately left with qualitative instead of quantitative methods for comparing methods.
One qualitative assessment is the extent to which results are driven by expert opinion versus the underlying data. Our method, like all others, uses expert opinion to define what is a garbage code. Informed decision-making also contributes to the assessment of which underlying causes are plausible for a given garbage code, so it is possible that some targets are excluded from redistribution. However, all subsequent steps rely solely on the data to inform regression coefficients and redistribution proportions.
Our method presumes that deaths are assigned to garbage codes either due to incomplete knowledge of the causal pathway, leading physicians to improperly attribute the death to the immediate mode of death (such as heart failure), or because of misapplication of the ICD rules for determining which of the causes in the causal pathway should be categorized as underlying. If, on the other hand, deaths are primarily misattributed to garbage codes due to misdiagnosis, then our algorithm will fail to provide meaningful results. While we assume that in the US health system misdiagnosis is less common than misattribution, absent an autopsy study to validate death certificates against true underlying cause of death we are unable to know definitively whether that is the case.
Additionally, underlying our algorithm is the assumption that the selected garbage codes will also appear on death certificates that have a valid underlying cause of death listed. This is commonly the case for causes like heart failure, renal failure, and others. However, it is much less common to find the ill-defined causes in the "R" chapter of ICD10 on death certificates with valid underlying causes, because these codes are typically only used when little or no information about the cause of death is known. We have applied our algorithm in these cases in order to have a consistent method for producing a mutually exclusive and collectively exhaustive set of cause of death estimates, but custom redistribution algorithms or simply proportional redistribution may be better candidates for correcting ill-defined causes of death.
Reliable methods for constructing comparable and accurate cause-specific mortality time series are necessary for understanding trends in health, which subsequently become inputs to research questions and policy decisions. Many countries have over a century's worth of vital registration data, but its usefulness is hampered by problems like garbage codes and ICD transitions. As early as the 1940s, researchers have identified "problems of inaccurate diagnosis and improper medical certification," with heart disease in particular being treated as "a convenient statistical 'wastepaper basket'" [22]. While improved physician training and better technologies for certifying death have long promised to increase the utility of mortality statistics in the future, we are still left with over a hundred years of data which we can make good use of given better algorithms and statistical methods.
Declarations
Open AccessThis article is distributed under the terms of the Creative Commons Attribution 4.0 International License (http://creativecommons.org/licenses/by/4.0/), which permits unrestricted use, distribution, and reproduction in any medium, provided you give appropriate credit to the original author(s) and the source, provide a link to the Creative Commons license, and indicate if changes were made. The Creative Commons Public Domain Dedication waiver (http://creativecommons.org/publicdomain/zero/1.0/) applies to the data made available in this article, unless otherwise stated.
Authors' Affiliations
(1)
Department of Epidemiology and Biostatistics, Imperial College London, London, UK
(2)
Institute for Health Metrics and Evaluation, University of Washington, Seattle, USA